While living in Nazi occupied Holland during WW2, a Jewish woman named Etty Hillesum stayed close to what was beautiful and shares her wisdom with us through her private letters and journals.  In a letter written inside a concentration camp she wrote:
"Despite everything, life is full of beauty and meaning."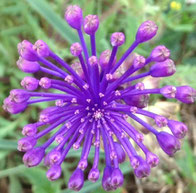 Etty's words travel so well through time, so they could come to us as instructions for our practice in times of difficulty.  She wrote:
"Sometimes the most important thing in a whole day is the rest we take between two deep breaths,
or the turning inwards in prayer for five short minutes."
I just arrived back in Spain in time, before the border closed.  The flight was delayed.  I had no idea if I would get back, or if trains would be running.  But somehow it all felt OK.   As I left the airport building in Barcelona, I heard the song of masses of birds clustered in the trees in the car park.  It felt so good to hear that and I smiled.  Etty writes:
"Sometimes I long for a convent cell, with the sublime wisdom of centuries set out on bookshelves all along the wall and a view across the cornfields--there must be cornfields and they must wave in the breeze--and there I would immerse myself in the wisdom of the ages and in myself. Then I might perhaps find peace and clarity. But that would be no great feat. It is right here, in this very place, in the here and the now, that I must find them. "
I find the way Etty responded to the most incredibly difficult circumstances with endless curiosity and love so very inspiring.  Her instruction to us was:
"Ultimately, we have just one moral duty: to reclaim large areas of peace in ourselves, more and more peace, and to reflect it toward others. And the more peace there is in us, the more peace there will also be in our troubled world."
It is understandable that when things change suddenly and we feel threatened, our defences come up.  Our need for self-preservation kicks in. This can feel really uncomfortable, to be in a state of alarm.  This discomfort can lead us to act in ways we wouldn't usually act.  To have thoughts and behaviours which do not help. We are shocked, and we shock ourselves with our response.  How do we get back to love?
My teacher Jaya has described some ways we can drop our alarm system here in her blog. 
Some of the happiest moments for me recently were those holding the feet of my niece and nephews in my hands.  A little massage, a little smile, a kiss.  On New Year's eve my 6 year old nephew chose his word of 2020 to be 'Surrender'.  He said with such confidence and authenticity, 'you know, surrender, just give up the battle, stop battling!'
Wishing you wellness and peace.