A few weeks ago, we left our Island home and began travelling in a self-converted tiny van.  We find ourselves on the 'Wild Coast' of Spain...
Wandering this new landscape, following my nose, I feel closer to this place and the life here...
A flower or leaf catches my eye and I lean in...eyes closed I inhale the aroma...  minty, sweet, earthy, bitter, lemony...it is pure and simple pleasure.
Breathing in the scent of lavender, rose, jasmine, mint, wisteria, pine, rosemary... is a precious simple pleasure to me.  Taking some plant essence inside with my breath, it travels in rivulets through my body, softening my face and going all the way to my fingers and toes.  We merge together.   I love that feeling!  Maybe I love it so much because there is no real reason to do it, other than for curiosity and joy!

Often, we notice movements of our thoughts that want to categorise and critique an experience.   As though the soul purpose of experience is to get some information, figure something out, add something to the library of our mind or the story of our life.  Maybe there is something else happening too.
What if smelling a flower is less getting and more opening to  allow a conversation to happen between our inner and outer world?  Between the flower and our cells? 
Maybe the scent stirs something deep inside the folds of our life, carrying us towards the sweet, musky, earthy, bright fragrance of our own being.
If we follow our noses, will it take us to what we need and what earth needs from us?   Show us what we are hungry for?  Simple pleasures, good food, connection?  Freedom from trying to prove, disprove or improve ourselves or others?
Our body responds to the messages of smell with movement.  One of our first  movements as babies was to turn our head towards the smell of milk.  Our face crinkles when we smell decay, and we tun away.
When we say that we smell success or trouble, what we mean is that our intuition is telling us something.  To get 'a whiff' of something is to receive communication from beyond the thinking mind, beyond logic and what we think we know about ourselves and the world.   It is an embodied knowing that comes with direct experience of something coming right up close and into us.  A knowing which doesn't always make sense or fit in with what we understand so far.
So maybe the smell of freedom has a bouquet beyond our wildest imaginings, and is also right under our noses.  

Wild food....
This week I sniffed out...    Elderflowers and Rock Samphire
so I made sweet fragrant elderflower cordial, and a pasta dish with the salty aniseed bite of samphire.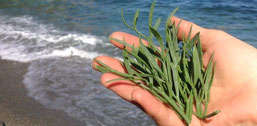 Elderflower cordial recipe...
36 heads of elderflower

1.5 litres filtered water

2 lemons, cut in half

700g golden caster sugar

4 tablespoons of local honey 
1. Shake off bugs from the elderflower heads and rinse carefully.
2. Gently warm the water and sugar in a big saucepan until almost boiling and sugar is dissolved.
3. Remove from heat and stir in honey.  (I used honey made by the bees in my garden)
4. Add the lemon halves
5. Dunk the elderflowers into the water until they are submerged, put a plate on top that covers the flowers and weighs them down.  Put the lid on the saucepan and leave for 24 hours. 
6. Remove the plate and pour cordial into a big jug, through a clean fine cloth, or piece of muslin, laid in a sieve, then into sterilised glass bottles or jars.  Keep in the fridge. 
Alternatively, pour into ice cube trays and freeze so you have lots of individual cordial portions that you can defrost any time.  Enjoy!
Cooking Rock Samphire
After washing, I dropped the samphire into the boiling pasta water for a couple of minutes. 
Then I added it to the peppers, broccoli and home grown garlic for the last minute in the frying pan. 
It was so yummy and I will definitely be heading back to the rocky cove where I found it!
Foraging for wild food is so much fun! Be sure to really carefully identify any plant before you eat it!